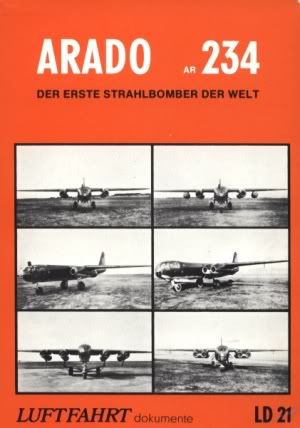 Luftfahrt Dokumente LD 21, compiled by Karl R. Pawlas, Publizistisches Archiv Karl R. Pawlas, Nuremberg, Germany, 1976, ISBN 3-88088-211-8. Illustrated, softcover, published in German.

Cover image © by Publizistisches Archiv Karl R. Pawlas, 1976.
Establishing his Publizistisches Archiv in 1956, Karl R. Pawlas made a name for himself by publishing a series of magazines, books, and booklets containing almost exclusively original aviation documents. The 1970s, in particular, saw some of Pawlas' most important aviation releases. Albeit aircraft of every nation and from every period of aviation history were covered, the focus was clearly on the German Luftwaffe of the Second World War.
The idea of utilizing only original documents and information was quite unique at the time and transcended the approach largely common in the then fledgling Luftwaffe publications scene. Instead of petrifying myths or errors committed or copied by previous authors since the 1950s, the publications of Karl R. Pawlas provided a wealth of extremely detailed and factually accurate technical and historical information, illustrations, and photos, most often directly gathered from material compiled by the respective German aircraft manufacturers or former Luftwaffe test establishments.
It is fair to say that Pawlas provided those interested in aviation history with a quantum leap as far as the availability of quality information was concerned. Pawlas, along with a number of further Luftwaffe research pioneers such as Karl Ries, Heinz Birkholz, Hans Redemann, J. Richard Smith, Eddie J. Creek, or Thomas Hitchcock, to name but a few, inspired countless later equally serious historians and researchers and thus laid the base for the abundance of truly excellent Luftwaffe publications available today. Moreover, most of the publications by Publizistisches Archiv Karl R. Pawlas still retain their significance to this day. That alone is an enormous accomplishment, given the major advances in Luftwaffe research since the 1970s which often render even cutting edge publications obsolete only a few years after they are released.
Next to the
Luftfahrt International
magazines, this comprehensive book on the Arado Ar 234 is probably the most notable legacy of Karl R. Pawlas. It contains 480 pages (!) of reprinted original German-language flight test reports, notes, data sheets, graphs, records, along with an appendix of 68 b/w photos. The Ar 234s covered range from the first prototype Ar 234 V1 TG+KB to the Ar 234 C prototypes V19, V21, and V22. The information contained in these flight test reports is stunningly interesting and makes for riveting reading.
It goes without saying that noteworthy facts contained in these documents have in the meantime found their way into subsequent standard publications such as, for example, J. Richard Smith & Eddie J. Creek's
Arado 234 Blitz
(Monogram Monarch 1, 1992) or
Arado Ar 234 A
(Midland Publishing, Military Aircraft in Detail series, 2006). But the mere page count of Pawlas' book alone indicates the sheer quantity and bandwidth of original information contained therein; an amount of data and details which goes far beyond the scope or capacity of any commercially viable book released by any modern publishing house.