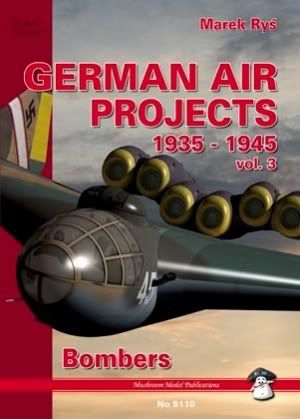 Marek Rys, Mushroom Model Publications, Redbourn, England/STRATUS s.c., Sandomierz, Poland, 2007, ISBN 978-83-89450-30-2, Red Series No. 5110. Illustrated, softcover, published in English.

Cover image © by Mushroom Model Publications, 2007.
As has become the standard for Mushroom Model Publications' output, this book, too, is professionally produced, well-researched, and clearly laid-out. Most aircraft are allocated at least one full page of text and drawings, although some of the nearly 50 entries (such as the Focke-Wulf Ta 400, for example) are covered in greater detail. Far from only including mere paper projects, Rys also details aircraft designs which either flew (e.g., the Junkers Ju 390 or the Heinkel He 277), were proposed subtypes of existing aircraft (e.g. the Arado Ar 234 or the Messerschmitt Me 264), or were in the process of actually being built as a prototype (e.g. the Horten XVIII or the Heinkel He 343).
The manufacturers included in this book include Arado, Blohm & Voss, BMW, Daimler Benz, Focke Wulf, Heinkel, Henschel, Horten, Junkers, Lippisch, and Messerschmitt. The projects described include both propeller and jet aircraft. Inexplicably, however, some of Arado's, BMW's, and Messerschmitt's projects are spelled with a nonsensical and entirely fictitious Umlaut.
Much like in the case of
another Mushroom book
reviewed elsewhere in this blog, however, one can occasionally find rather puzzling statements. As stated in the aforementioned review, the limited size of these books renders impossible the inclusion of a detailed list of original references consulted. It is thus impossible, for example, to determine why Rys labels Messerschmitt's P.1107 project "Me 462". This number can't be found in the RLM GL/C list.
The final eight pages of
German Air Projects 1935-45, Volume 3: Bombers
comprise beautiful and convincing computer renderings of what these aircraft might have looked like if actually built. This is a very pleasing and professional addition, and a huge step forward from older books on this topic (such as, for example, David Masters' legendary
German Jet Genesis
, Jane Publishing, 1982) whose illustrations at times looked as if drawn by a child and thus provided plenty of ammunition to those who perceive the speculative nature of the content of such books as laughable.