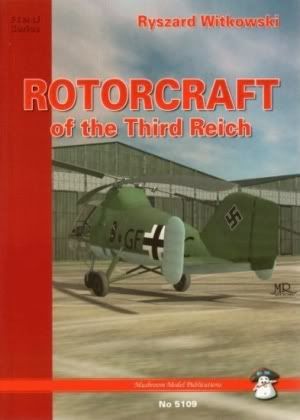 Ryszard Witkowski, Mushroom Model Publications, Redbourn, England/STRATUS s.c., Sandomierz, Poland, 2007, ISBN 978-83-89450-43-2, Red Series No. 5109. Illustrated, softcover, published in English.

Cover image © by Mushroom Model Publications, 2007.
In 2002, Classic Publications released "Helicopters of the Third Reich", Steve Coates' landmark study on rotary wing aviation in Germany until 1945. It has become the standard reference on the topic. Ryszard Witkowski's neat little "Rotorcraft of the Third Reich" is thus not a competitor. Instead, it is perhaps perfect for those who have only a passing interest in the subject, and it is also ideal as a compact set of references for modelers.
Due to the fact that helicopters represented a rather diminutive field of aviation which was largely still in development before and during World War II, there is only a finite amount of period material available. It is probably for this reason that Witkowski's "Rotorcraft of the Third Reich" often feels like a compressed miniature version of Coates' "Helicopters of the Third Reich". Witkowski provides an abbreviated overview of German helicopter development and history, including early autogyros, wartime types, projects, aircraft captured by the Allies, and post-war helicopter development.
Needless to say, Witkowski covers many - but not all - of the aircraft featured in the larger work, and there are countless photos which appear in both publications. But a number of these common photos are printed in a slightly inferior quality in Witkowski's "Rotorcraft of the Third Reich", although the very decent paper would surely allow for a better reproduction. Both publications supply numerous line drawings of the aircraft described, and these exhibit only minor differences. There is also a small pull-out with 1/72nd scale drawings of the Focke Achgelis Fa 223 V1, Fa 223 V51, and Fa 223 E. "Rotorcraft of the Third Reich" concludes with several pages of color profiles as well as color photos of surviving aircraft.
This is a handy and very nicely made book, although some questions remain. For example, it would be interesting to find out how Witkowski arrives at the "Fw 354" designation for the Focke-Wulf "Triebflügel" project. This number was not assigned in the RLM GL/C list, and to the best of my knowledge, I also have not seen it in print anywhere else before. Unfortunately, there is neither an explanation nor does the limited size of Witkowski's book provide room for a list of original documents consulted, if any. There is only a short bibliography at the end, almost entirely dedicated to post-war publications.