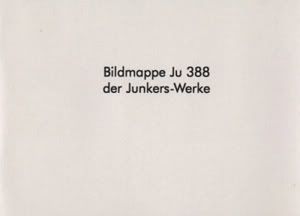 Originally produced by the Junkers factory for submission to the RLM, self-published facsimile edition by Dr. Peter Korrell, Wolfenbuettel, Germany. Illustrated, softcover, no text but includes a German-language introduction.

This small 40 page booklet is yet another stunning facsimile publication by Dr. Peter Korrell. The original
Bildmappe
[Photo Album] was compiled during the war by the Junkers company, for submission to the German air ministry (RLM). The size of the photos was 13 by 18 cm, and Junkers had them glued to grey cardboard pages. The b/w photos had reference numbers, but there were no photo captions.
As usual, Dr. Korrell was meticulous in recreating this unique publication. The photos are no longer glued on cardboard but instead printed on high-quality card stock. The quality of the photographic reproductions is excellent, as it was possible to source all photos directly from the originals. According to Dr. Korrell, more than 40 percent of the photos contained in the
Bildmappe
had remained unpublished. And even the photos that had been published are reproduced here to a higher quality.
The scope of the
Bildmappe
is spectacular. The photos first show Ju 388 L-1 RT+KD,
Werknummer
340084, and Ju 388 L-1 RT+KC,
Werknummer
340083. But the real treasure trove are the subsequent, exquisitely detailed shots of hatches, cockpit, canopy, air intakes and exhausts, wiring, air bottles, fuselage interior, bomb doors, aircraft equipment, and so on.
The booklet contains the familiar German-language leaflet by Dr. Korrell, detailing history and recreation of the original publication.