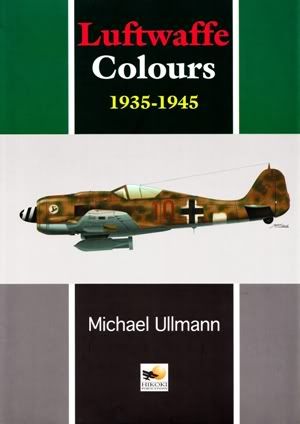 Michael Ullmann, Hikoki Publications Ltd., Ottringham, England, 2002, ISBN 1-902109-34-1. Illustrated, hardcover, published in English.

Cover image © by Hikoki Publications Ltd., 2002.
It's not quite that simple to draft at a conclusive and fair appraisal of this book. Michael Ullmann has risen to become one of the most renowned experts on the topic of Luftwaffe colors and camouflage. Prior to this lavish, 256-page, large-format Hikoki edition, Ullmann's book (in its original German edition) has gone through a number of incarnations, each time becoming more definitive and professional. The first edition, in the mid 1990s, was a self-published underground release, essentially a photocopied stack of paper, held together by spiral binding. Yet even then, Ullmann's expert knowledge and, not least, his enthusiasm for the topic, were readily apparent from the content of the publication.
One of the subsequent editions of the book - the one immediately preceding this Hikoki edition - was published through Germany's eminent Bernard & Graefe publishing house. Ullmann's work had by now become a substantial hardback book, and the abundant text was supplemented by means of well-reproduced black & white and color photos, color profiles and period drawings. Hikoki's English-language version of the book is based on this last German edition. It contains yet even more photos and profiles, and the format of the book was almost doubled.
Michael Ullmann's research and publishing work are invaluable for anybody seriously interested in the Luftwaffe. And yet, therein lies also this book's limitation, so to speak: it is slightly less "consumer-friendly" than other comparable publications on the same topic by, for example, Classic Publications or Eagle Editions. The text is not primarily designed for readability or narrative quality, but rather for completeness and technical accuracy. It sometimes comes close to resembling a doctoral thesis, and this is not helped by the inclusion of an abundance of specifications and exhaustive instructions translated from German period documents. It is almost too much, even for a reader truly focused on the questions of Luftwaffe colors, unless he or she is in the process of restoring the genuine article.
Moreover, there are no fancy color profiles as customarily used by other Luftwaffe publishers, such as the aforementioned ones. Instead, the Hikoki edition of Ullmann's book provides some basic profiles in the typical Hikoki-style (i.e., they are not rendered to look photo-realistic and three dimensional but rather simply to showcase camouflage patterns).
While thus less commercially appealing and more demanding to the reader, all of this also serves to make Ullmann's
Luftwaffe Colours 1935 - 1945
an absolutely essential, excellent, and very thorough study of Luftwaffe aircraft painting and camouflage. Moreover, a section of the book looks at markings and codes.
Luftwaffe Colours 1935 - 1945
provides a long overdue and very detailed look at official decrees and period customs. No serious Luftwaffe library can do without this book.
Most of the photos in
Luftwaffe Colours 1935 - 1945
are reproduced to a crisp, professional standard. As is almost inevitable due to the nature of the topic at hand, the interpretation of the camouflage in the photo captions is, in a few instances, debatable. In addition to the photos, the book contains period drawings and documents. Also included are 44 color chips, and 10 more were subsequently provided by the publisher as a free supplement.
At the time of the book's release, some enthusiasts expressed a certain unhappiness about the size of the chips (30 by 17 mm) and the fact that they are glossy. To me personally, the size is completely irrelevant. I don't require square-foot sized chips, but rather accurate ones. Besides, there have been many other expert publications with roughly similarly sized chips. Also, there exist countless photos of Luftwaffe aircraft with glossy camouflage surfaces, so the glossiness did not deter me, and I agree with the publisher in that I tend to think that flat chips age less nicely. Whether or not Ullmann's chips will hold up over time remains to be seen.
There are some minute shade differences between the paint chips published by other respectable sources, such as e.g. Eagle Editions'
Color Chart
or Aura Design Studio's
Luftwaffe Tarnfarben
(by Tomas Chory). The same goes for the chips in Ullmann's book. A lot of research undoubtedly went into all of these reference works, and it should be remembered that the original Luftwaffe color batches inevitably differed from each other ever so slightly as well, especially towards the end of the war.
(Amended version of a review originally posted on the discussion forum of Hyperscale.com in August 2002.)