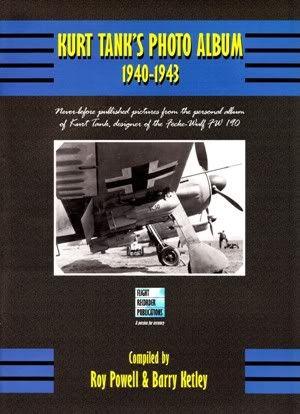 Compiled by Roy Powell & Barry Ketley, Flight Recorder Publications, Ottringham, England, 2004, ISBN 0-9545605-3-1. Illustrated, softcover, published in English.

Cover image © by Flight Recorder Publications, 2004.
This relatively unknown - I am tempted to say "obscure" - book is quite an intriguing publication. The plentiful photos contained therein were originally part of an anonymous Word War II vintage photo album that came into the possession of one of the authors, Roy Powell. As related in the introduction of the book, some detective work eventually revealed that the photo album had possibly once belonged to Kurt Tank, Focke-Wulf's illustrious chief designer.
To any serious student of the former German Luftwaffe, the book is simply spectacular. It contains a remarkable mixture of candid shots of aircraft and people, always bolstered with extensive and well researched text. Even if these photos are taken from what is purported to be Tank's album, not all illustrations are directly connected to him in subject. The enormous bandwidth of topics covered is surprising and thrilling.
There are images of Fw 190s, Fw 189s (including in-flight shots of the rear gunner's station), Fh 104, Fi 156, Fw 200, Ta 154 V1, and, most interestingly, five pictures of the Fw 191 (one of these is a shot of a wartime scale model). In addition, there is a chapter of pictures of the little known but highly interesting Berlin B 9, some of them showing unprecedented details. These photos are complemented by a translated German technical and flight test report on the B 9. To me personally, this chapter is the highpoint of the book.
Moreover, there are, for example, numerous photos from newly captured France which range from airfields to towns and tanks. A small chapter in the beginning of the book provides a glimpse at the famed 1937 Dubendorf, Switzerland, aviation meeting. People featured throughout
Kurt Tank's Photo Album
include Tank himself, Friedrich Christiansen, Ritter von Greim, Erhard Milch etc. Of interest to many might also be a series of shots of Adolf Galland that, in the background, also show Bf 108s and Bf 109s.
Astonishing, to me, is the inclusion of 15 pages (!) worth of period cartoons only superficially related to aviation. These are of course of a certain historical significance but still seem like an immense and incomprehensible waste of printed pages to any aircraft enthusiast. Moreover, the meaning of the German language captions to these cartoons is often simply untranslatable, in spite of the authors' admirable efforts.
The book is completed by color profiles of the B 9 and Fw 191. These are printed in very dark colors, however, which drastically limits their usefulness.