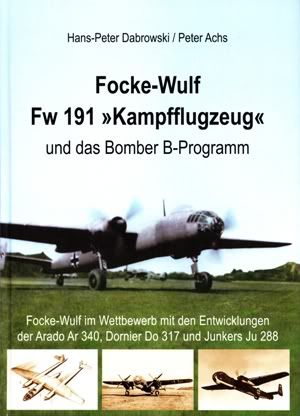 [Full title: "Focke-Wulf Fw 191 Kampfflugzeug und das Bomber B-Programm - Focke-Wulf im Wettbewerb mit den Entwicklungen der Arado Ar 340, Dornier Do 317 und Junkers Ju 288"] Hans-Peter Dabrowski & Peter Achs, Stedinger Verlag, Lemwerder, Germany, 2011, ISBN 978-3-927697-61-4. Illustrated, hardcover, published in German.

Cover image © by Stedinger Verlag, 2011.
The existence of the Luftwaffe's "Bomber B" program is common knowledge for anyone seriously interested in German military aviation of World War II. It has been referred to in uncounted books on the Luftwaffe, and it is perceived as a major and very costly (and ultimately failed) weapons program. Nonetheless, no comprehensive history of the "Bomber B" program had so far been published. We were left with brief glimpses and fragments at best and unsubstantiated assertions at worst, many of them perpetually repeated.
Passably competent but, by necessity, fragmentary information about the Bomber B program can be found, for example, in Thomas H. Hitchcock's
Close-Up 2: Junkers 288
(Monogram Aviation Publications, USA, 1974), or in Manfred Griehl's
Dornier Do 217-317-417
(Airlife Publishing Ltd., England, 1991). Moreover, political, technical, and industrial implications of the Bomber B program are illuminated in greater detail as part of Lutz Budrass' phenomenal 976-page study
Flugzeugindustrie und Luftrüstung in Deutschland 1918 - 1945
(Droste Verlag, Germany, 1998). Updated information was also published in recent years in specialist magazines, namely in Germany's
Flugzeug Classic
.
But now we are presented for the first time with a publication entirely dedicated to the Bomber B program and the resulting aircraft designs. And what an absolutely spectacular book it is, packed with information and rare and detailed photos. At 344 pages, a format of 205 x 285mm, and some 420 illustrations, it is a sizeable publication by any means. Moreover, it's perhaps most surprising that it is still possible to publish such an astonishingly comprehensive study in this day and age of economic-commercial challenges and massive competition by means of countless multi-media platforms.
Still, Germany's Stedinger Verlag has a long history of publishing well-researched, landmark-type books on Luftwaffe-related topics. Publications such as Hans-Peter Dabrowski's own
Focke-Wulf Nahaufklärer Fw 189 A Uhu
(2008), Stephen Ransom's astounding
Zwischen Leipzig und der Mulde - Flugplatz Brandis 1935 - 1945
(1996), or F.-Herbert Wenz'
Chronik des Lemwerder Flugzeugwerkes 1935 - 1963
(1995) and
Flughafen Tempelhof 1939 - 1945: Chronik des Berliner Werkes der Weser Flugzeugbau GmbH
(2000) are but a few examples of this publishing house's commitment to provide ground-breaking, quality releases.
Focke-Wulf Fw 191 Kampfflugzeug und das Bomber B-Programm
is no exception. If anything, it represents a new pinnacle in both Stedinger Verlag's catalog of titles and the work of Hans-Peter Dabrowski and Peter Achs. The book's sheer opulence and attention to detail, along with its careful, fact-based approach, render it a magnificent one-stop source for the program in question and the aircraft involved.
On the back cover of the book, and at various points in the text, Dabrowski and Achs are at pains to explain that there exist significant gaps with regard to surviving original documents relating to diverse aspects the Bomber B program. It will thus probably remain impossible to ever compile a truly definite history of the program. And yet, taking into consideration such insurmountable obstacles, Dabrowski and Achs have achieved exactly that - the most complete history of this topic ever released. In doing so, they are able to address and correct many assumptions and much erroneous information previously published.
Starting with a background on the situation which gave rise to the Bomber B idea, the book then details the early designs for Focke-Wulf's response to the call for proposals, leading to the actual Fw 191. The text is supported by numerous drawings, tables, and original documents, along with photos of contemporary display and windtunnel models, mock-ups, static tests, technical and powerplant details, and prototype aircraft. The political and industrial context is continuously highlighted in the narrative, as are changes to design and engines, as well as problems during design, construction, and test flights. Also covered are the individual prototypes, and planned further developments (such as the Fw 491, or the Ta 400, and many more).
A nice and very helpful touch are loosely interspersed brief biographies of significant personalities involved, such as engineers, political brass, Luftwaffe staff, or test pilots. The wealth of photos uncovered (many of them previously unpublished) is simply astounding, particularly if one takes into account the loss of much such material due to the ravages of the war.
A significant component of the story of the Bomber B program is of course the question of the powerplant. The associated problems and changes, seemingly perpetual, played a major part in eventually dooming this entire weapons program, and they are well documented here by the authors.
One of the most stunning (and, to me, most unexpected) aspects of the book is that it doesn't just stop at the aircraft which is the subject of its title.
Focke-Wulf Fw 191 Kampfflugzeug und das Bomber B-Programm
also contains what is probably the most comprehensive history yet written on Junkers' Bomber B entry, the utterly fascinating Ju 288. At 75 pages, and again heavily illustrated, the section on the Ju 288 is basically a book within the book. A further section of 18 pages details the usually elusive Dornier Do 317 entry, another 11 pages are dedicated to the even more obscure Arado Ar 340 entry. A final page discusses what potentially also was a Bomber B contender, the Henschel Hs 130 C.
The book's appendix contains four color profiles of the Fw 191, Ju 288, Do 317, and Ar 340, along with two color facsimiles of original Fw 191 documents, and a listing of sources and materials used in the completion of the book
A minor point of contention could perhaps be that a number of photos have been printed at a relatively small size. This is undoubtedly the result of the sheer number of photos contained in the book as well as the eventual limitations of page-count and associated (and entirely understandable) commercial confines. While this is sometimes a bit of a shame, I wouldn't want to trade the existing book for one with fewer but larger photos. In addition to the massive amount of information presented, it is not least the aforementioned wealth of illustrations which serves to make this publication such a treasure.